In 1987 I stumbled upon a game of Battletech in progress at a local comic convention. I was a fan of Robotech, the animated series, so it was the miniatures based on mecha from the series that initially caught my attention. I was delighted to see that an entire game had been developed around them so I sat down and joined in. I enjoyed the game so much I thereupon spent/wasted a good part of ten ensuing years to it, eventually forming a group I affectionately named "Da Mercs", but at the end of that period I bid it no fond adieu. (See the Philosophy page.)

Although my major concern as a gamemaster was to ensure that the experience was both fun and fair (And anyone who's rolled the dice knows how rare that can be.) in the end my most unique contribution to the enterprise was the wide variety of fanciful and unique terrains I created, like the mountain on the right, using techniques that were both cheap and efficient. You'll find links to the full list of my terrains on the left.

I created most of my terrain using a 20" X 30" home-made hex-template, based on 1-1/2" hexes. My favorite material was good old cardboard, bonded together using carpenter's glue. Although it was very tedious work crafting these terrains I took great satisfaction in seeing them blossom into reality.

Most of all, I am most proud of the fine group I was fortunate to have rolled against week after week, year after year. So let me give a quick shout-out to my 'Centurion' homies: Josh Cohen, Dan Byrns, 'Mad' Pat Haughton, Keith Lauritzen, James Potter, Kage Salvanera, Dave Sanzgiri, Mike Standifer, Dan Urban, Ben Warmus, Gene Senter, and Billy Lucas. Thanks for all the fabulous battles and good times, gang.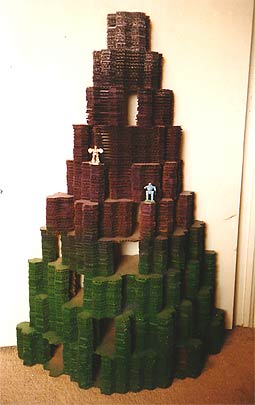 So long, little Smurfs.


The image above represent my beloved Smurfs that went under the eBay gavel in 2009. I'd like to thank all the fine folks who gave my blue troops a good home.